All-Inclusive
Enjoy International Cuisine Included with Your Accommodations
We have captured the authentic Mexican flavors and varied international cuisine to provide you with a delicious gastronomic experience in three restaurants and four bars.
Being an all-inclusive hotel, your accommodation includes food and beverages in all of our buffet and a-la-carte restaurants and bars, 24-hour room service (service fee per order applies), in-room mini-bar (refilled daily) and seasonal theme nights. Note: Private events such as romantic dinners, family dinners, have an extra charge. Taxes are included in rates. Our concierge will be happy to assist you to create great moments for your loved ones.
Frutas y Flores Restaurant (Main Buffet Restaurant)
Enjoy the perfect harmony of colors and aromas in this cozy restaurant, where you can experience what is undoubtedly the best breakfast in Puerto Vallarta. Also, join us for lunch or dinner to taste our wide variety of menu items and renowned buffet, featuring different specialties every night.
Breakfast: 07:30 – 11:30 hrs.
Lunch: 12:30 – 17:00 hrs.
Dinner: 18:30 – 22:00 hrs.
Dress code: CASUAL
Beach Club Restaurant & Bar
With our delicious snack menu as your host and the beautiful, relaxing sea as your companion, you'll have no option but to allow us to pamper you with a refreshing Margarita and our exemplary service at the Beach Club.
Hours: 12:00 – 17:00hrs.
Dress code: CASUAL
Sunset Restaurant
At night, our Beach Club puts on its dress clothes and becomes the Sunset Restaurant, where the Puerto Vallarta sunset is a faithful witness to the delicacies prepared in this Mediterranean specialty restaurant. With ingredients chosen under the most stringent requirements, the chef's wisdom and experience in combining flavors and the singular hospitality of its hosts, all three elements are sure to please even the most demanding palate. (Previous reservations with the concierge are required.)
Hours: 18:30 – 22:00 hrs.
Dress code: ELEGANT CASUAL
Corazón Contento
Delight your palate at our Mexican restaurant, offering a menu of International Mexican cuisine and a special selection of international wines. A lovely culinary experience awaits you! (Previous reservations with the concierge are required.)
Hours: 18:30 – 22:00 hrs.
Dress code: ELEGANT CASUAL
Dinner Only
Sky Bar
Where the view is just the beginning!
The Sky Bar is an exclusive oasis for adults that becomes the perfect place to capture the most spectacular sunset images during your stay. Here you will find a spacious open terrace in the heights, which offers ample space to enjoy the stunning views. In addition, you can indulge in our delicious sushi dishes, appetizers and a selection of wines, beers, and specialty cocktails. Guest staying at Deluxe ocean view with king bed or trwo double beds and Honeymoon suite, have access to Sky bar. Exclusive access to sky bar for Privileged Club members.
Hours: 15:00 – 23:00 hrs.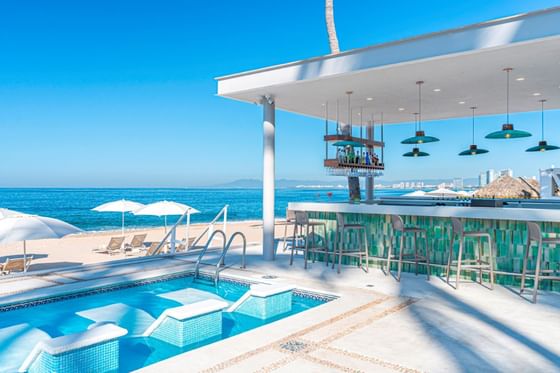 Palmita Snack & Bar
For light snacks and refreshing drinks, this is one of our main bars located in the pool and beach areas.
Hours Food: 11:00 – 18:00 hrs.
Hours Drinks: 11:00 – 22:00 hrs.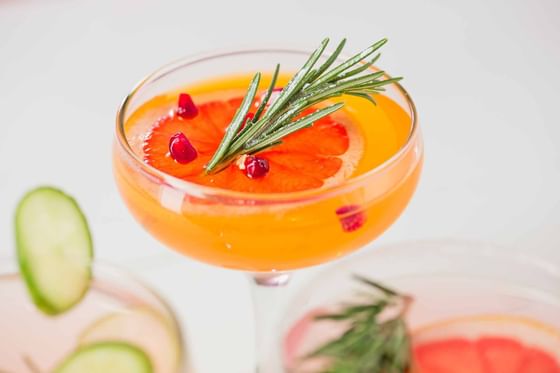 Beach Club Bar
This is another one of our wonderful bars, serving great cocktails around the beach and pool areas.
Hours: 10:00 – 20:00 hrs.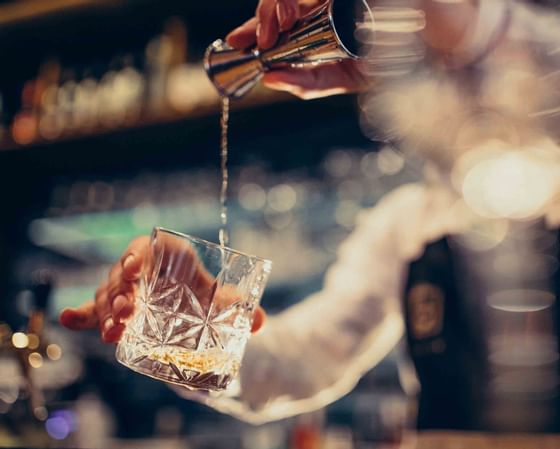 Lobby Bar
If you want to escape the Vallarta sun for a moment, the Lobby Bar awaits with cool shade and tropical drinks.
Hours: 08:00 – 01:00 hrs.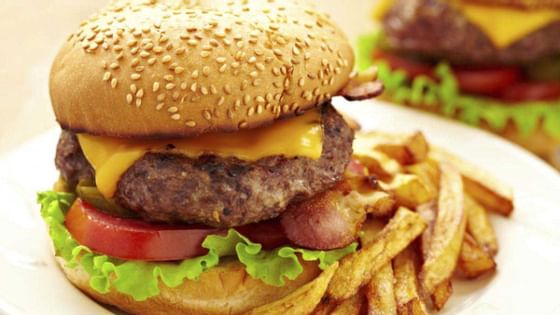 24-Hour Room Service
Experience a special and extensive menu of gastronomic goodies and beverages that are available 24 hours a day. A nominal service fee per order will apply.
Private Dinners
On your honeymoon? Celebrating a birthday? Anniversary? Wedding? Or maybe you just want to enjoy a private setting with your partner, friends or family. No matter the occasion, we offer the perfect option for an unforgettable night. (Previous reservation with the concierge are required.) An extra fee per person applies.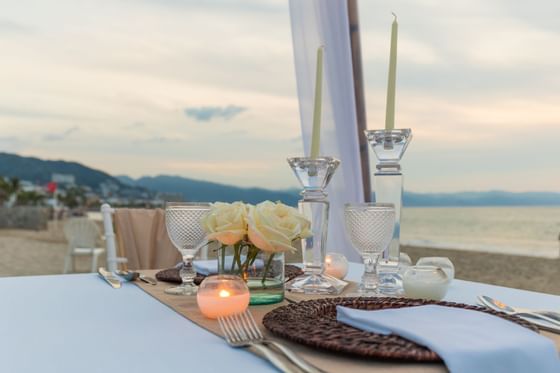 Romantic Dinner
The sand, sound of the sea and special lighting from torches and candles create the ideal setting for reigniting the spark with your partner. Special menus are offered for these occasions. (Previous reservations with the concierge are required.)
Dress Code
Casual: Bermuda shorts (pants or Capri pants) tennis shoes or sandals, tee-shirt with sleeves (men), beach dress or cover up (women)
Elegant casual: Tennis shoes or dressy sandals, dress shirt with short sleeves and collar (Please avoid wearing non sleeve shirts or beach sandals), slacks (men)
Formal: Slacks, collared shirt, dress shoes (men); blouse and skirt, pants or dress, dress shoes (women)